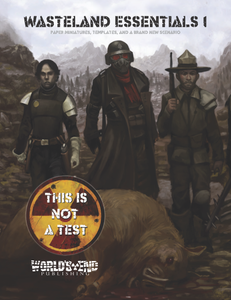 Worlds End Publishing
Wasteland Essentials 1 PDF: Paper Miniatures, Templates, and a Brand New Scenario
Regular price
$4.99
$0.00
An item repeatedly requested by fans, Wasteland Essentials 1 is a companion product for the main This Is Not a Test rulebook and features 32mm printable figures, counters, and templates to enhance the scenarios in TNT. Lavishly illustrated by Spanish artist David Arenas, we think the full-color high-quality artwork in Wasteland Essentials 1 raises the bar for excellence in printable game aids.
Paper Miniatures
For use with scenarios where you need extra miniatures beyond just your warband, such as Pest Control and The Caravan, Wasteland Essentials 1 has you covered with rad zombies, irradiators, lightly armed caravanners, and cargo animals. Full color instructions are included with clear demonstrative pictures by pillar of the hobby games industry, Dave Taylor.
Templates and Counters
Beyond just miniatures, Wasteland Essentials 1 also has templates and counters for all of the hazards of the wastes from the This Is Not a Test main book such as ripwinds, emberquakes, poisonous gases, and more.
Bonus Scenario
A scenario is included to showcase all of this great material in Wasteland Essentials 1. In the Lost Caravan your warband must recover the remnants of a destroyed caravan train while braving dangerous and unpredictable wasteland phenomena. All for profit of course.
We think Wasteland Essentials is one of the best downloadable products on the market! Further, as an pdf, Wasteland Essentials 1 can be used to print as many copies as you need. Whether you need 10 rad zombies or 10,000 the choice is yours.
Key Features:
Full instructions with photos by Dave Taylor
Full color artwork by David Arenas
Brand new scenario – Caravan Lost
45 32mm printable miniatures
51 miniature bases
14 counters
4 templates
Expanded Contents List
8 Irradiators
27 Rad Zombies (two types)
3 Zombie Nests
6 Caravanners (two types)
4 Cargo Animals
4 40mm bases
47 25mm bases
2 Poisonous Gas 5-inch templates
To see Wasteland Essentials 1 in action we highly recommend you check out Chris Layfield's excellent hobby blog
Chris Layfield Learns to Paint
.
---
More from this collection