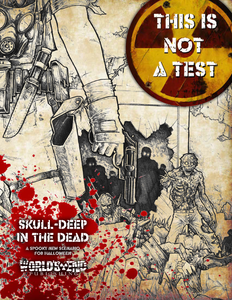 Worlds End Publishing
Skull-Deep in the Dead Free Scenario
Regular price
$0.00
$0.00
It's Halloween here in the Tri-State Wasteland and we thought we would celebrate with a special free scenario.  Of course, since the wasteland is always a nightmare, this one is going to be rather nasty.
No warbands this time.  Instead you get one model to take on a literal army of rad zombies.  The downside is your hero is going to die.  Horribly, in fact.  The upside is you have 150 BS to build the baddest hombre you can.  Their life will be short, but their death will be glorious.
Of course, this being a holiday special, the scenario is totally free to download.  It's a great way to break up a long campaign or even a quick way to play a game of This Is Not a Test with little prep time.
So gets your friends together, grab a beverage of choice, and prepare to roll some dice this Halloween.
---
More from this collection