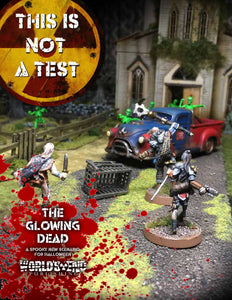 Worlds End Publishing
The Glowing Dead – Free 2019 Halloween Scenario
Regular price
$0.00
$0.00
Another year, another free Halloween scenario.  This time we have spooky skeletons, an abandoned church, and even dodgy free painting advice from your humble author!  This new scenario has it all.
The low down:  Your warband is minding it's business trying to kill their rivals, when both sides are attacked by skeletons reanimated by a glow-in-the-dark fungus. Yay! Can you survive until dawn?  Make sure your opponent doesn't!
This scenario is completely free to download.  While Halloween themed it, will fit into any campaign or even a one-off. 
A special thanks to Wargames Atlantic for giving us permission to use their fun skeletons for this scenario and to Black Site Studio for making the great church featured in the scenario pictures.
---
More from this collection