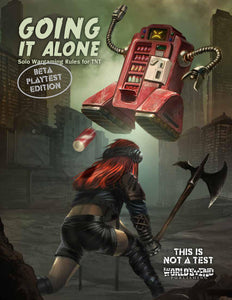 Worlds End Publishing
Going It Alone: Solo Wargaming Rules for TNT - Beta Playtest Edition
Regular price
$0.00
$0.00
Going It Alone: Solo Wargaming Rules for TNT is a free single player supplement for This Is Not a Test, a 28mm wargame set in a post-apocalyptic United States, where warbands fight for survival, power, and greed.   This supplement includes:
No Other Players, No Problem – Don't have an opponent readily available? No big deal!  Use these rules to run the opposing warband.
You Can't Cheat Yourself – Play any way you want. Try crazy homebrew rules, make your own wacky scenarios.  Break the rules to your heart's delight. No opponent permission needed. 
An Unpredictably Predictable AI – Your opponent is an in-depth AI that runs on a Behaviors/Action Flow Chart to determine how the enemy will act/react. You might be surprised by how the battle goes.
Two ways to Play – You can use the detailed decision flowcharts for more granular play or just choose how the enemy acts/reacts by following a few basic guidelines. Keep it as simple or as complicated as you like.
Fully Compatible – This supplement is 100% compatible with all TNT supplements.
It's Free – What more can we say.
---
More from this collection