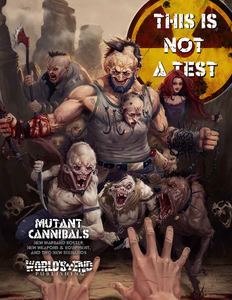 Worlds End Publishing
Mutant Cannibals Supplement PDF
Regular price
$3.99
$0.00
Just in time for Halloween, the Mutant Cannibals supplement adds a ghoulish new twist to your games of This Is Not a Test. This supplement fully re-introduces the terrible mutant cannibal family as a fully playable warband, as well as a host of extra material. Beyond game rules, the supplement also features gorgeous full color art work by Dario Jelusic and dynamic photography by Dave Taylor Miniatures
Mutant Cannibal Warband
The mutant cannibals are a nightmare come true. Living in twisted family clans, they raid wasteland settlements and seek the flesh of their foes. Led by the matriarch or the patriarch of the family, a host of gruesome family members are at your command. Whether it's the deceptively lovely Petunia, the simple, but gargantuan Tiny, or even the blood-crazed psychos who hold torture as an art form. The cannibal mutant warband also feature the ability to access to wasteland critters such a great rats, rad roaches, or the powerful psychic husk.
 Access the Cannibal Armory
The mutant cannibals bring with them an array of deadly weaponry and deviant equipment. With everything from new vicious close combat weapons, to guns that literally boil the enemy alive with blood, and armor made out of the skin of their poor victims, the armory in this supplement is a true terror to behold. But don't lose all hope, other warbands can also use most of these weapons!
New Scenarios
Finally this supplement introduces two new scenarios: The Night Has Eyes and Snack Attack. Favoring the mutants chosen form of attack, these night raids feature the two most common cannibal themes, attacking your enemy while they sleep and raiding a settlement for a little nourishment. Of course these scenarios are definitely playable by other warbands and don't necessarily have to be about blood and guts, but why would you want that?
Key Features:
Detailed history of the cannibal clans
Fully playable Mutant Cannibal warband
Wasteland Critters as available warband members
16 new weapons, armor, grenades, and equipment
Two new scenarios: Snack Attack and The Night Has Eyes
20 full color pages with unlimited printing rights
Full color art by Dario Jelusic
Dynamic photography by Dave Taylor Miniatures
---
More from this collection