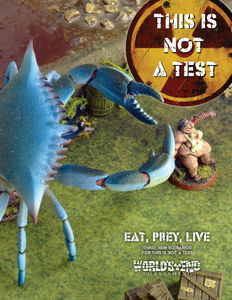 Worlds End Publishing
Eat, Prey, Live Scenario Pack PDF
Regular price
$2.99
$0.00
Note - This is a PDF.
Eat, Prey, Live is a set of three playable scenarios designed to test the mettle, strength, and survivability of your warband. Each scenario introduces a new wasteland creature or hazard and provides additional depth to the history and (de)evolution of the Tri-State Wasteland. Full-color artwork and dynamic photography by Dave Taylor Miniatures completes this first release from Chris Layfield.
Eat, Prey, Live features the following:
New Scenario (Eat) - Your warband will need more than a rod and real to bring these fish home. Look out for giant mutant crabs.
New Scenario (Prey) - Mutant turkeys are on the menu, but things may get a little explosive.
New Scenario (Live) - This is playing TNT on hard mode!  Can your warband survive fall out from the fallout!
Author:  Chris Layfield
9 pages
---
More from this collection