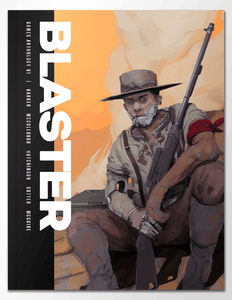 I am pleased to announce my participation in BLASTER magazine.  This is a cooperative anthology magazine featuring some of the best game designers in the industry, and they even let me play along.  Inside you will find rules for Rangers of the Shadow Deep, Gaslands, Last Days, Relicblade, and of course This Is Not a Test. But BLASTER is more than these games.  It's a magazine to push the boundaries of creativity.  Expect brand new games, variants aplenty, and anything frankly the authors want to play around with.  The plan it to have a comprehensive release every four months and...
---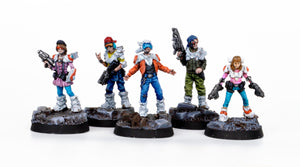 The Alley Gang While browsing at Games and Stuff, my Friendly Local Gaming Store, I discovered the miniatures for the Orphan Gang from Zombicide Invader.  This is a sci-fi collection of six children, mostly teens, armed with various guns and cybergear.  The sculpting and detail on the miniatures is amazing and they ooze cyberpunk character.  So I had to have them.  The sculpting from Zombicide: Invader is tops and you can see them here. Since they fit the aesthetic so well I decided to make them a crew for Reality's Edge.  In my head, their Showrunner is a child prodigy...
---
Greetings wastelanders.  I am proud to announce that the Big Book of Scenarios is finally ready for your buying pleasure.  Spend your hard earned barter scrip on 20 new scenarios to challenge your warbands and provide a bit of a refresh for your This Is Not a Test experience.  The book is 53 pages and is only $5.99.  You can purchase it here!
---
Greetings wastelanders. We are proud to announce that we will be offering all of our great PDF products at a nice 20% discount starting now through Cyber Monday.  Click the following link, or use the coupon code TURKEYPDF19, while shopping for discounts on everything from the This Is Not a Test original rules to new products like Absolutely Dangerous! TURKEYPDF19 We also want to thank everyone for your continued support. All the best. Joey McGuire World's End Publishing President/Head Janitor
---
s Drone Jockey by Thomas Elliott, used with permission from Osprey Games. I was recently asked to write a bit about drones on the Cyberpunk Miniatures Group on Facebook.  Thinking that would make a fun micro-blog entry, here we go. Drones are an important cyberpunk trope and Reality's Edge would have been incomplete without them.   Controlling drones is the role of the drone jockey operative, in fact, short of one exception, they are the only models that can control drones.   Drone jockeys could be classified as more of a support role and as such their stats are medium-grade, but still...