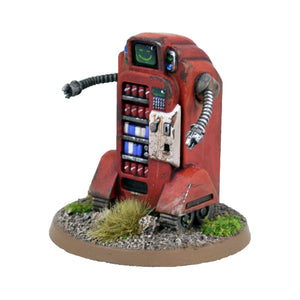 Worlds End Publishing
Vendo Bot
Regular price
$10.00
$0.00
The Vending Machine from the Future!!!!
The ultimate in enabled, ambulatory, autonomous marketing and retail devices! No more skulking in niches or lurking in disused corridors, Vendo will proactively seek and sell your products to an excited audience! There will be no place to hide from your product message ever again!
This particular model comes equipped with two flexi-arms.  It is 35mm tall. Sculpted by Chris Caporal.
Package Contents (1 resin miniature with metal parts)
1x resin robot body
2 x flexi-arms (metal)
1x 30mm slotted plastic round base
The 28mm Vendo Bot miniature model is ideal for playing This Is Not a Test and other post-apocalyptic, science fiction, or fantasy wargames. Copyright 2019 World's End Publishing.
Metal Miniature Ingredients 98% Tin Pewter Alloy: Tin (98%), Bismuth, Silver and Copper - Lead, Cadmium & Antimony FREE
---
More from this collection