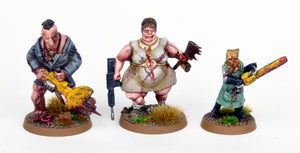 Worlds End Publishing
"Serving Up Trouble" Mutant Cannibal Warband Booster
Regular price
$26.00
$0.00
The "Serving Up Trouble" booster gives players new options for the mutant cannibal warbands. First, is Maw-Maw. When Pa is not around, or maybe he got eaten, Maw-Maw is large and in charge.  Along with her is Tiny, her little baby.  This "baby" is over 7' tall and is real good at killing things, all without asking any questions.  Finally, an alternative psycho sculpt, adds another torturer to your family's festivities.  
This set of three models represents a fine addition to any mutant cannibal warband.  Note these are metal models and will need assembly. Some modeling experiences is recommended.  The psycho is 28mm to the eyes and Ma and Tiny are both 35mm. Sculpted by Sean Bullough and James Van Schaik.
Package Contents (8 metal miniatures)
1x Ma-Maw body
1x Maw-Maw arm with assault rifle
1x Maw-Maw arm with cleaver
1x Tiny body
1x Tiny's concrete saw
1x psycho with chain saw
1x 25mm slotted plastic round base
2x 30mm slotted plastic round bases
The 28mm "Serving Up Trouble Mutant Cannibal Warband Booster are ideal miniatures for playing This Is Not a Test and other post-apocalyptic, science fiction, or fantasy wargames. Copyright 2018 World's End Publishing.
Metal Miniature Ingredients 98% Tin Pewter Alloy: Tin (98%), Bismuth, Silver and Copper - Lead, Cadmium & Antimony FREE
---
More from this collection