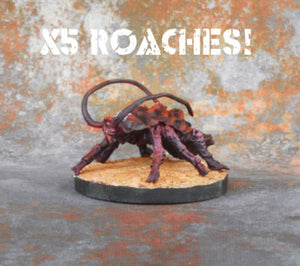 Worlds End Publishing
Rad Roach Swarm
Regular price
$29.25
$0.00
You are going to need big boots to smash all these Rad Roaches. This deal contains five Rad Roaches and includes a money-saving 10% discount. Bug spray not included.
Package Contents (5 metal miniatures)
5x Rad Roach body
5x antennae sprue
5x 30mm slotted plastic round base
The Rad Roach Swarm Deal for playing This Is Not a Test and other post-apocalyptic, science fiction, or fantasy wargames. Copyright 2015 World's End Publishing.
Metal Miniature Ingredients 98% Tin Pewter Alloy: Tin (98%), Bismuth, Silver and Copper - Lead, Cadmium & Antimony FREE
---
More from this collection