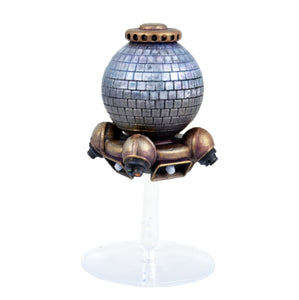 Worlds End Publishing
Party Bot
Regular price
$10.00
$0.00
"Party Bot is here to party. Amaze your friends, annoy your neighbors, have the best time everrr!" Or so the advertisements used to say for this particular robot. Party
Bots were designed to be at the forefront of any celebratory gathering. The model featured a zippy hover mobility, an earsplitting sound system, and the most blazingly bright disco ball allowed by Pre-Fall consumer safety laws. Sadly, with most of their client base now charred skeletons, Party Bots have a hard time in the wasteland and are a bit of a rarity. Those that remain are prized for their ability to play Pre-Fall music and lighten things up a bit, even combat.
This particular model comes equipped with giant disco ball and a hover-platform affixed with thrusters and a sick sound system. It is 30 mm tall (not including the flight stand). Sculpted by Chris Caporal.
Package Contents (1 resin miniature)
1x resin disco ball
1 x hover-platform
1x 25mm slotted plastic round base
1x plastic flight stem (black)*
*Flight stand does not come as shown in picture.  Instead it comes with an alternative flight stand that locks into the 25mm slotted base.
The 28mm Party Bot Bot miniature model is ideal for playing This Is Not a Test and other post-apocalyptic, science fiction, or fantasy wargames. Copyright 2019 World's End Publishing.
---
More from this collection