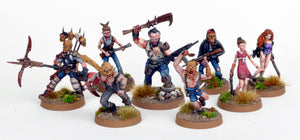 Worlds End Publishing
Mutant Cannibal Warband
Regular price
$50.00
$0.00
The degenerate mutant cannibal clans are a continual threat in the Tri-State Wasteland.  Each clan is led by the strongest of their kind and the birth order of each member determines their place in the family hierarchy.
Pa is the family patriarch and clan leader, while Petunia, the oldest and loveliest daughter holds a place of honor.  It is she, the most comely of the cannibals, who lures outsiders to their doom. Below them are the youngins, the various brothers, sisters, and cousins who make up the bulk of the family's forces, and the degenerates, weaker mutants with crippling deformities who are at the bottom of the family pecking order. Lastly there is the psycho.  A depraved torturer who cares little for the family infighting, and is only interested in acquiring more pretty playthings to terrorize. 
This set represents a full mutant cannibal warband of eight models ready to head out into the wastes for food and family glory.  Note these are metal models and will need assembly. Some modeling experiences is recommended.  Each mutant cannibal is between 25-28mm to the eyes, though Pa is a big boy at 35mm. Sculpted by Sean Bullough and Patrick Keith.
Package Contents (8 metal miniatures)
1x Pa miniature
1x Pa hand with cleaver
1x female youngin with shotgun
1x male youngin with rifle
1x male youngin with shotgun
1x male degenerate body
1x degenerate arm with bare-hand
1x degenerate arm with knife
1x degenerate head with scarf
1x male degenerate body
1x degenerate hand with fork
1x degenerate hand with knife
1x Petunia
1x Petuna's submachinegun
1x Psycho body
1x Psycho trophy rack
1x Psycho arms with weedwhacker of doom
1x weedwhacker of doom blade
7x 25mm slotted plastic round bases
1x 30mm slotted plastic round base
The 28mm Mutant Cannibal Warband are ideal miniatures for playing This Is Not a Test and other post-apocalyptic, science fiction, or fantasy wargames. Copyright 2018 World's End Publishing.
Metal Miniature Ingredients 98% Tin Pewter Alloy: Tin (98%), Bismuth, Silver and Copper - Lead, Cadmium & Antimony FREE
---
More from this collection