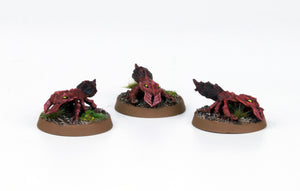 Worlds End Publishing
Giant Ant Swarm
Regular price
$10.00
$0.00
Giant ants are a common hazard that makes their homes in large earthen mounds in out of the way parts of the wasteland, but close to a sufficient food source. The ants range far and wide for food and can be encountered almost anywhere. Most often encountered in groups, these bicycle-sized insects possess powerful mandibles for close combat. 
This particular comes with three identical ants, though perhaps their queen can tell them apart. Each giant ant ant is 23mm long and 11mm tall. Sculpted by Robby Crawforth.
Package Contents (3 28mm metal miniatures)
3x giant ants
3x 25mm slotted plastic round bases
This 28mm Giant Ant Swarm is ideal miniatures for playing This Is Not a Test and other post-apocalyptic, science fiction, or fantasy wargames. Copyright 2019 World's End Publishing.
Metal Miniature Ingredients 98% Tin Pewter Alloy: Tin (98%), Bismuth, Silver and Copper - Lead, Cadmium & Antimony FREE
---
More from this collection