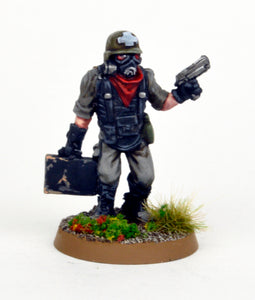 Worlds End Publishing
Adepticon 2018 Wasteland Doc
Regular price
$6.50
$0.00
This special edition miniature was commissioned for Adepticon 2018 as a special giveaway to some lucky attendees. He is now ready to go out into the wasteland officially and heal/hurt the sick and dying. This fun model can be used to represent any number of characters and roles found in the This Is Not a Test rules, but is perfect for the freelancer Sawbones or the Settler citizen medic.
Adepticon 2018 Wasteland Doc comes equipped with a pistol and doctor's kit. He's 33mm to the eyes of his gasmask. Sculpted by James Van Schaik.
Package Contents (1 metal miniature)
1x wasteland doc body
1x 25mm slotted plastic round base
The 28mm Adepticon 2017 Special Edition Wasteland Doc miniature is ideal for playing This Is Not a Test and other post-apocalyptic, science fiction, or modern wargames. Copyright 2018 World's End Publishing.
Metal Miniature Ingredients: 98% Tin Pewter Alloy: Tin (98%), Bismuth, Silver and Copper - Lead, Cadmium & Antimony FREE
---
More from this collection